Community Resources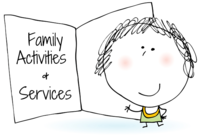 Each year we update our Free and Low Cost Activity Guide so you can find programs and services that fit your needs. We also work hard to maintain an up-to-date directory of agencies and organizations that offer services to families with young children.
We hope you find what you're looking for, contact us if you don't!
Family Activities
Various free or low-cost family activities available in the Kamloops area.
Family Services
Contact information for various family services available in Kamloops.